Heute habe ich für euch das EK Waterblocks Classic RGB S240 Liquid Cooling Starter Kit ausgepackt und inspiziert. Ein Einbauvideo folgt später. Das Kit ist für 279,90€ im EK WB shop zu erwerben !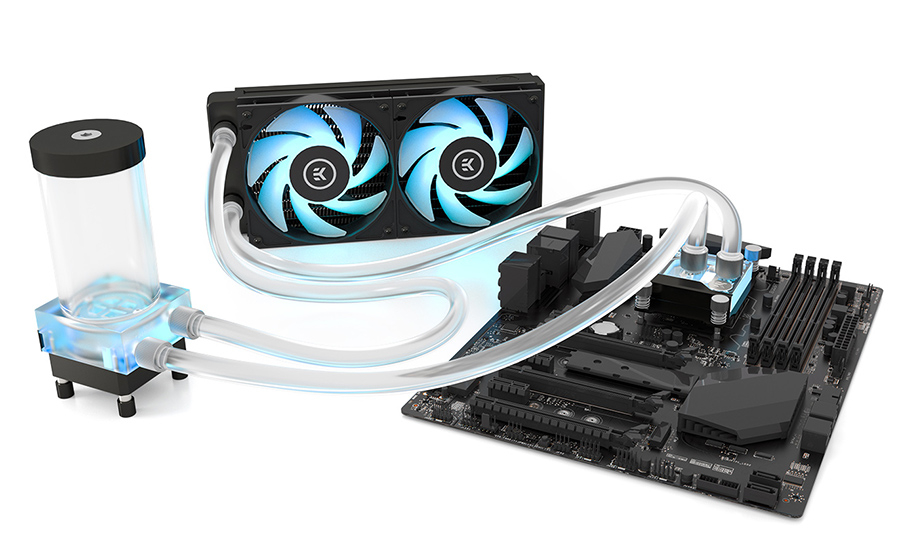 Details
A value-oriented, high-performance RGB liquid cooling kit with low noise emissions, ready to accommodate any mainstream Intel or AMD CPU on the market. Designed for cases with very limited space, including mini-ITX, the S kits are a great way to enter the world of custom liquid cooling.
The kit brings everything you need to assemble your first custom loop. You don't have to worry about compatibility issues, missing something or being nervous about the right amount of fittings or tube length. Also, this kit can easily be expanded with a GPU block to liquid cool your entire system, but EK recommends adding at least one more 120mm radiator to achieve great temperatures and a silent system. All products in this kit use 4-pin 12V RGB headers and are compatible with popular RGB sync technologies from all major motherboard manufacturers.
This kit brings the following components, selected from our wide range of quality products:
EK-Supremacy Classic RGB – a high-end, nickel-plated copper CPU water block for modern Intel and AMD processors. It features a classic, market-proven design that will perfectly fit the needs of core enthusiasts and demanding users as well. The tool-less mounting system makes the installation process a breeze even for beginners. This block comes with a pre-installed Intel mounting system while the AMD AM4 mounting system is in the packaging and needs to be installed if needed.
EK-CoolStream Classic SE 240 radiator – it gives this kit its name – the 28mm thick design allows for utilization even in the space-constrained cases while allowing great cooling potential due to the high-performance core engine. Built for EK-Vardar 120mm high static pressure fans, these radiators are optimized for maximum heat dissipation across entire fan operational range thus delivering exceptional performance at both low and high airflow operation.
EK-Vardar F4-120ER RGB (500-2200rpm) – high-static pressure computer cooling fan enriched by flashy RGB LEDs, designed and built primarily for highest-performance computer liquid cooling systems. EK-Vardar is simply the best choice for computer radiator cooling as it provides unmatched performance throughout the entire operating range.
EK-XRES 140 SPC PWM Classic RGB (incl. pump) – is a value-oriented water cooling pump reservoir combo. It has been designed to lower the production costs yet still offer premium hydraulic performance at the best price. PWM control allows for automatic pump speed regulation depending on your CPU temperature. Full performance on demand or whisper-quiet operation in idle mode.
EK-DuraClear – 2 meters of the premium quality clear PVC tubing, guaranteed to be free of plasticizer leaching related issues.
EK-CryoFuel Clear Concentrate (100ml) – EK-CryoFuel Clear is a pure, non-toxic coolant based on the patent-pending chemical formula, which prevents the creation of any sediments in the liquid cooling loop. The 100mL concentrate is to be mixed with distilled water in ratio 1:9 to form 1L of ready-to-use coolant. To make mixing the concentrate with distilled easier, EK recommends the use of filling bottle (not included) that is also designed to make a loop filling process much easier.
EK-STC Classic 10/13 – nickel-plated brass fittings. With a high-quality finish, the EK-STC Classic Fittings are an aesthetically appealing and secure option for your custom loop liquid cooling system. A non-intrusive, minimalistic look, with NO added branding at all.
The kit is easy to install, use and maintain, a thorough installation manual is included. Every item in this kit can be purchased separately, further descriptions and specifications of individual items can be found in EK webshop.
The majority of components has been pre-assembled resulting in a quick and painless installation procedure. Once installed, this kit is a full custom loop solution. It can be upgraded with additional water blocks and components, such as additional radiators or GPU blocks.

EK-KIT Classic RGB S240 water cooling kit includes:
– Universal CPU water block: EK-Supremacy Classic RGB – Nickel + Plexi (incl. thermal paste)
– Radiator: EK-CoolStream Classic SE 240 (Slim Dual)
– Radiator size: 273 x 120 x 27mm (L x W x H)
– Radiator fan: EK-Vardar F4-120ER RGB (500-2200rpm) (2pcs)
– Water pump-reservoir combo: EK-XRES 140 SPC PWM Classic RGB – Plexi (incl. pump)
– Tubing: EK-DuraClear 9,5/12,7mm (3/8" – 1/2") (2 meters)
– Compression fittings: EK-STC Classic 10/13 (3/8" – 1/2") – G1/4 Nickel (6 pcs)
– Coolant concentrate: EK-CryoFuel Clear rev.2 (100mL; for 1L of coolant)
– EK-UNI Pump Bracket (120mm FAN)
– Y-cable splitter: EK-Cable Y-Splitter 3-Fan PWM (10cm)
– EK PWM Cable Extender 500mm
– EK-Cable Pump testing adapter
– ATX Bridging Plug
– RGB 4-Way Splitter Cable
– Allen Key 8mm
This water cooling kit is compatible with the following CPU sockets:
– Intel LGA-1150/1151/1155/1156
– Intel LGA-2011(-3)
– Intel LGA-2066
– AMD Socket AM4